13 Dec

A Guide to help your Bathroom Remodeling Project
"I love to design and remodel houses, from working with the contractors to picking the colors, materials, kitchen and bathroom accessories to finally what furniture goes where" – Olivia Newton-John
I think we all can agree that Sandy from 'Grease' is a national treasure. So, when she says something like this it makes us love her even more. McNeil Construction agrees with her 100 percent. Any remodels, but especially bathroom remodeling, is a something we look forward to and hope to do more of.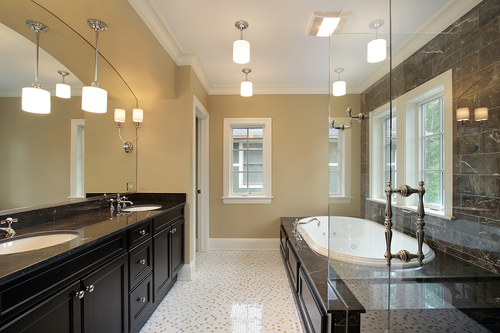 Bathroom remodeling is exciting and like our Kitchen remodel blog post, the first thing that you should always do is prepare that budget and don't waver. Keep to it! If you're budgeting correctly, you've already worked in that additional 10 percent for updates, issues or problems. After the budget, it's choosing the contractor. We hope that you choose McNeil Construction & Remodeling, but we know that can't always be the case. If you aren't doing the project yourself, you must be comfortable with your contractor. So, pick the one that eases your stress the most.
Now, what's next for your bathroom remodeling project? Here's a list of what you could do if you're bathroom remodeling yourself, or a guide of what you could expect from us.
Bring It Down
The plan must be in effect before you start your bathroom remodeling demolition. Like I said above, don't go into the bathroom remodeling plan with a revolving door mentality. That'll get you into trouble and can be expensive. So, after that's taken care of, the fun part begins. Bring it down baby!
We'd start the bathroom remodeling development by getting that toilet out of there. We'll drain it to prevent any unnecessary spills or anything unpleasant that's remaining in the piping. We'll cover the bathtub, if you're keeping the tub. If not, we'll pull that out too. We'll then begin removing the tile to build up the new plumbing which will be focused around your new bathroom plan. The last things that'll be done during demolition days are the removal of your old cabinets, vanities, mirrors, floor tiles, and any other features you're planning to be rid of.
Plumbing and Electrical
Before going into anything having to do with the design of your bathroom remodeling, all plumbing and electrical should be updated and adjusted. Apart from the budget, this is the most important stage of the whole process.
Shower Time
Once the bathroom remodeling stage of demolition is done, we'll begin the process of building your new shower. Your blueprints are already drawn up, so your layout shape is either rectangular, square or Pentangle; which means a base with one of the corners cut off. At this point, you should also be setting up the new drains to your bathtub. Everything will be in alignment with the new shower; and tub, if you're doing a combo. This process should also include replacing your shower sub-floor if there is any sign of rotting wood or water damage.
Tiling and Putting the Floor Together
If you're bathroom remodeling yourself, this can be an exhausting task. It's tough on the body but once the tiling and laying down of your floor is finished, it makes the effort all worth it. If you're doing this yourself, please talk to someone or us about the tile laying process. There are many wrong ways to do this, and people can instantly regret it and may have to pull up all the work they've done. This can be exhausting, depressing and expensive.
Hang Drywall & Paint it Up
Now your bathroom makeover is starting to take shape. The next step is to hang your new drywall. This can be a backbreaking process as you have to custom fit new drywall to fit around your new vanities and room layout. But once you start nailing up the boards you should be able to start moving quickly.
Install the Vanity and Top it off
Oh, you bet big time! It's now time to install the Vanity and anything else that sets up the bathroom. The absolute last finishing touch is installing the trim around the room and mirrors. The trim is the cherry on the top of every bathroom remodeling project. It provides the last bit of detail your bathroom needs to feel complete.
Bathroom Remodeling
It goes without saying that a bathroom remodeling project is exciting. For us contractors and especially for you. Who doesn't want to take a shower or bath in a new tiled bathroom or brand-new shower with perfectly running water? Just remember that the most important thing about your bathroom remodeling project is to have a firm budget and to not sacrifice what you want. Don't waver or get bullied. Be strong and smart and your bathroom remodeling plan will succeed! If you'd like to set up a consultation, you can contact us here, we are more than happy to help you with your bathroom remodeling plans.