01 Feb

Make It Personal with Custom Walk-In Closet Design

Having a spacious walk-in closet can make every day begin with a calm clarity. Even with quality sleep and a healthy breakfast, a stressful time getting dressed easily ruins the mood. If you're looking for a worthwhile remodeling project or trying to envision a new custom home, consider your options for walk-in closet design options.
Walk-In Closet Design – Start with the Right Layout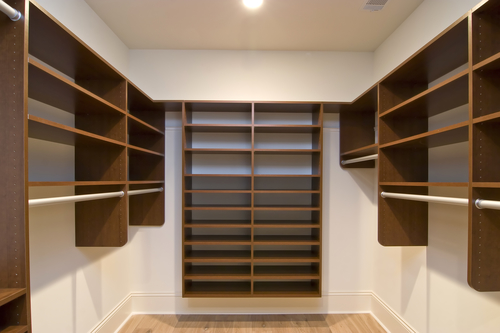 Much like the kitchen, your closet has a flow of functionality. Depending on your routine (and fashion habits), there's probably an ideal walk-in closet design layout just for you.
Straight or "galley" style: Two long walls of shelves, drawers, and hangers, with a wall at the back for a floor-length mirror. Perfect for couples or for separating formal and casual wear.
U-shaped: Closet storage covers three walls for even more storage, often with shelves or drawers comprising the middle wall.
L-shaped: A two-wall walk-in closet design can make the most sense for narrower closets. Also helps to avoid feeling like you're spinning in circles looking for things.
Walk-in closet with island: Larger walk-ins benefit from a center console island for socks, underwear, and accessories, or even with a chaise longue or pouf.
Designing a Custom Closet
The prevailing wisdom will tell you that closets should be bright white and as open as possible, but you can design yours however you see fit. Dark walnut wood looks beautiful for closet shelves as long as you have enough lighting.
Custom walk-in closet design also gives you the freedom to put everything at your fingertips, literally. Shorter people may prefer floor-level drawers or shoe storage and seasonal storage at the top, and taller people can take more advantage of vertical space. Simply put, you shouldn't have to stoop or tip-toe.
Some more tips for timeless, enjoyable walk-in closet design:
Use hardwood, laminate, or tile floors with a removable, cleanable area rug so you aren't stuck with cold bare feet.
Place drawers along the floor to prevent items from getting "lost" or creating difficult-to-clean spots.
Save lower drawers and shelves for heavy items that would be difficult to retrieve from higher shelves.
Find a balance with between complete symmetry and a hodgepodge of cabinets and hanging space. Center your walk-in closet design around a tall section of drawers or cabinets to break things up and avoid the visual problem of varying hanger rod heights next to one another.
Make It Comfortable
Lighting for walk-in closets can be tricky, but it's possible to eliminate shadows and make the space feel more airy. Add track lighting to the ceiling instead of a single overhead. Hidden LED strips can go above each compartment. A motion sensor for the lights makes things even easier.
Ventilation should also be considered during walk-in closet design. Vent the space with a quiet exhaust fan to breathe easy, reduce allergens, and protect your items from humidity.
Make a Walk-In Closet Feel Bigger
It never hurts to make a closet feel more spacious. Avoid hanger rods adjacent to the door, so you aren't immediately seeing shirt sleeves stick out. If you keep a well-organized closet, place open shelves near the door. If you prefer to toss things into the closet, use built-in drawers near the door to avoid clutter.
Mirrored sliding doors can also enlarge the room while producing a sleek, modern walk-in closet design. You could even simply add mirrored walls behind your clothing.
Complete the space by using a step stool to comfortably use your top shelves. Ideally, if nothing sits on the floor, the room will feel less cramped.
Walk-In Closet Design & Remodeling
Your new walk-in closet design shouldn't require any "hacks" or compromises. With the right design and layout, you can get the functionality you need with a look that makes getting ready a treat rather than a chore.
Thinking about building a custom home or starting a master suite remodeling project in the Santa Rosa area? Talk to McNeil Construction and Remodeling Inc. about walk-in closet design and what you want to build.