04 Oct

Build a French Styled Home for Luxury & Sophistication

Planning on building a new home? If so you probably have an idea of how you want it to look like when it is finally complete. One of the most fundamental aspects of home-building projects that should be considered before breaking ground on projects is the style home you want. One great suggestion homeowners can consider is building a French styled home as there are becoming increasingly popular and add style to any home building idea.
A French Styled Home is Constructed with a Blend of Both Eclectic and Contemporary Design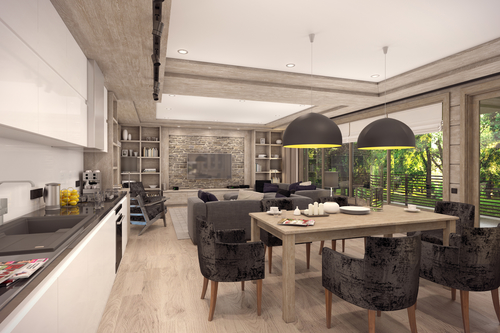 With the construction of a french style home the entire living space is usually encompassed within two stories. Typically built in a rectangular shape under a hip roof the entrances of a French style home are strategically placed front and center giving a sense of grandeur as soon as you enter the home. As for the floors they are created with a L-shaped layout that lead up to a round tower at the intersection of the housing entrance to accentuate the other contrasting features of the entrance.
Additionally a French styled home carries a signature brick, stone and stucco exterior finish which is considered one of its main defining features. This complemented with a Mansard style roof and beautiful multi- paned windows blend together perfectly for an exquisite finish.
Apart from this decorative shutters and arches accentuated with keystones above windows and doors are also typical features found in French styled homes. Other defining elements include copper-topped bay windows and a symmetrical facade of brick or stucco but among the countless elegant features found in French styled homes the high pitched styled roof is considered to be the most dominant characteristic of the architecture as it consolidates the entire exterior of the home.
Generally French styled homes are designed to be large,luxurious, living spaces that include balconies and unique, artistic, details that add that touch of luxury and sophistication. So if these classy, detailed, elements seem intriguing and speak to your taste  then maybe building a French style home may be ideal for you.
French Styled Homes are Perfect for Any Lifestyle
Despite the fact that French styled homes are considered to be larger than usual there are some homes that can be found in smaller more compact forms. For instance in some French styled homes decoration can be minimal and interior design can vary however no matter how compact the house French  homes are constructed in such a way that people can enjoy plenty of living space and a consistency of elegance in both the interior and exterior of the home.
Want to Build a French Styled Home? Get the Masters of Construction 
It takes great skill and artistry to really achieve the ultimate beauty of a French styled home.  This is why its so important to have your building projects managed by an expert.  Consult with us at McNeil Construction & Remodeling Inc. and get the best results for your project.
Here at McNeil Construction & Remodeling Inc. our team of talented professionals aim to provide the highest quality building services . Don't hesitate to contact us at 707-665-9531 we'd be happy to come and assist you. You can also visit our website at: www.webuildpeoplesdreams.com for more information.